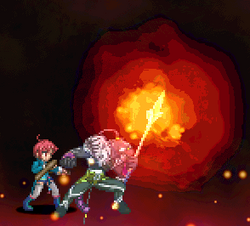 Mao (マオ, Mao) is one of the playable characters in Tales of Rebirth.
Mao is the adoptive son of Eugene Gallardo and had no memories of his past or where he originally came from. He was first seen in his original game with Eugene offering help to Veigue Lungberg in controlling his force and freeing Claire Bennett from her ice prison. Mao is equipped with Tonfas and is gifted with the Force of Fire. He is a powerful spellcaster and can cast destructive spells of different elements.
He appears to assist Eugene Gallardo in using a Fusionic Force Finality in ACS.
Mystic Artes (秘奥義 - Hi Ougi)
Edit
User
Name
Command
Elemental Damage
Hits
Power
Requirements
Eugene Gallardo
Inferno Drive

インフェルノドライブ
(Infernal Drive)

↓ → ← E
-
13
151
Ad blocker interference detected!
Wikia is a free-to-use site that makes money from advertising. We have a modified experience for viewers using ad blockers

Wikia is not accessible if you've made further modifications. Remove the custom ad blocker rule(s) and the page will load as expected.