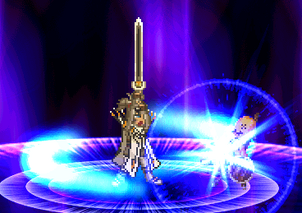 Vandesdelca Musto Fende (ヴァンデスデルカ・ムスト・フェンデ Vandesuderuka Musuto Fende) more known as Van Grants (ヴァン・グランツ Van Gurantsu), is the Commandant of the Oracle Knights in Tales of the Abyss and is a cameo support character in ACS.
Van is Tear Grants's older brother and Luke fon Fabre's sword instructor. He harbors a deep hatred for the Score since it predicted the fall of his hometown. Together with his Six-God Generals, he plans to eliminate the world's dependence on the Score by using whatever means necessesary. Van fights in the Albert-style which focuses more on stronger sword attacks with less speed just like Luke, as he taught him that style.
Van can use one Mystic Arte in ACS as a support for Synch & Six God-Generals.
Support Artes (援技 - Hikuwaza)
Edit
User
Name
Command
Elemental Damage
Hits
Power
Requirements
Synch

Shinsou Seijouha
神葬星条破
(Celestial Elegy)

← → ↓ ← E
-
6
265
Ad blocker interference detected!
Wikia is a free-to-use site that makes money from advertising. We have a modified experience for viewers using ad blockers

Wikia is not accessible if you've made further modifications. Remove the custom ad blocker rule(s) and the page will load as expected.